Twenty One Pilots: Why So Popular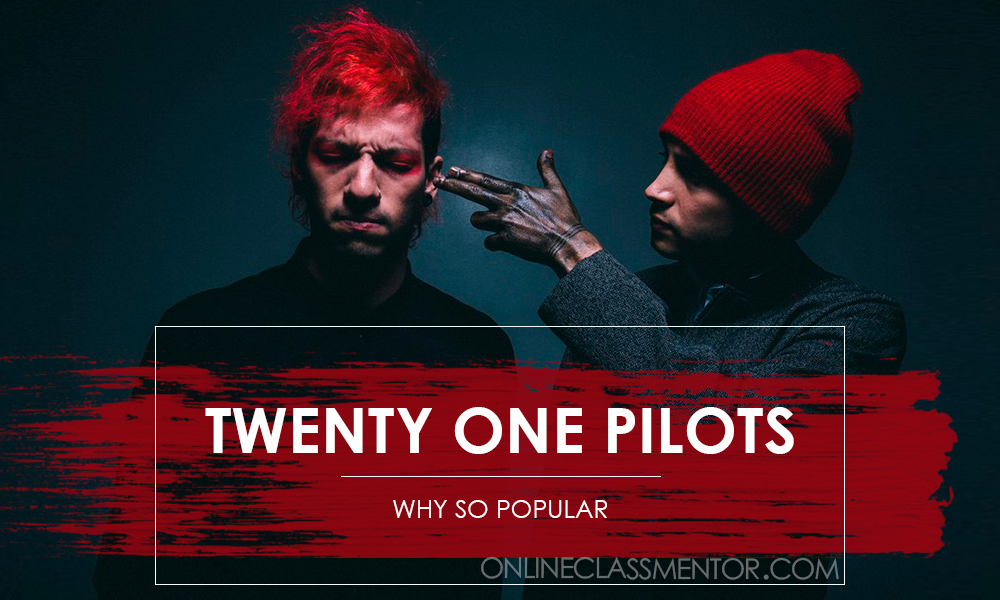 Everyone loves music. Although every person listens something which he like, effect is always the same. Music gives people feelings they want. When you are in bad mood you can listen to sad music and your sadness will become romantic and maybe even enjoyable. Some people listen to hard music as hard rock in order to relieve stress. Some people want to plunge into romantic atmosphere that's why they listen to classical music, pop or pop-rock. Students may listen to rock or other music while doing some home task. By the way you can join online classes and learn how to write good essays or order one that you like. Our service allows you all that.
As we can see purposes of listening music may be very different. Some people use music as a source of adrenalin during sport exercises, others visit concerts of their favorite groups. Ones prefer to listen to only high quality music and in such format as lossless while others are not so exacting. But music unites people of every age and from every part of the world. Everybody has favorite music band or even some of them. They may be very famous or not, but they will be still the best for ones and not enough good for others. It's so because tastes differ. Today we will talk about one of bands that became really famous and quite young. This band is called Twenty one pilots.
History of the band
It is logical to start talking about band from its beginning and members. This band is unique and very interesting as guys mix many styles and receive music that can't be compared with anything else. However the band consists only of two members Tyler Joseph and Joshua William Dun. So only two members can create something awesome and exciting. Tyler plays ukulele, keyboards and bass-guitar. He is also the vocalist of the band. Joshua – talented drummer deals with percussion instruments. It should be mentioned that members of band have really great relations and it seems like they have the same language like language of twins. They always on the same wave and spend a lot of time together.
What is interesting is that parents of the drummer were quite strict and even didn't allow him listen to music, but he went to the music shop and there he could do it and play drums. Tyler didn't play music at school and firstly he played basketball. But later he declined basketball scholarship which one of the universities offered him and started to play music. He decided that it was his cup of tea. First instrument he began to play was keyboard.
The band at first consisted of three members and at first Joshua wasn't one of them. Except Tyler there were Nick Thomas and Chris Salih (who played drums). It was vocalist (Tyler Joseph) who created the name and it based on historical book about death of twenty-one pilots. In 2011 only vocalist left because two other members quit from band. However Joshua William Dun liked the band really much and almost immediately changed Chris. Since that time band has two members in its composition and situation remains unchangeable.
Talking about style in which band plays, it's quite hard to define as they mix many styles such as pop-rock, reggae, indie-rock, hip-hop and some others. You may also look at some photos and information about the band on their official site.
Albums and fans reviews
1. Twenty One Pilots(released in December,2009)
The first album had the same name as band and was the first and the only one made by three members. It was self-released and was quite successful.
Later in 2010 band also placed in the Internet two tracks which weren't released in the album, however then deleted them. By 2011 only Tyler left in the band, while other two members gone.
2. Regional at Best (released in July, 2011)
Since this album band began to include only two people: Joshua who liked this band and replaced drummer and Tyler, who created the band. Band also had a free concert in High school of New Albany which accompanied the release of the album.
Later they played in Columbus' Newport Music Hall and that was a great success. Hundreds of record companies began to struggle for this band. Finally they signed a contract with Atlantic Records. In the same year they presented two extra tracks to their fans. One of them called "House of Gold" became a real hit.
3. First EP and Vessel(released in January,2013)
In July, 2012 band released first EP (mini-album) called "Three songs" which they recorder at studio Fueled by Ramen (affiliated undertaking of Atlantic Records).
At the same studio they worked on full-length album "Vessel". It was very successful and took high places at different charts. Song "Holding On To You" became their first radio hit.
In 2012 video made on the song mentioned above was placed on YouTube. Later the same was done with the song" House of Gold"
Some tours
In May, 2013 band went in a tour with a well-known band "Fall Out Boy".
In 2014 band became well known and even mainstream. So they went into some popular festivals and in response to their fans demands visited different countries during their Quiet Is Violent World Tour.
4. Blurryface (released in May.2015)
The album was sold in amount of about 134000 copies during the first week. As a result the band was on the first place of chart Billboard 200. That was great fame and achievement.
In 11 of May they went into a big World Tour. Popularity of band began to rise very fast. They also continue to release clips on their songs such as "Fairly Local" and "Tear In My Heart".
Movie called "Suicide Squad" received many reviews and a lot of fans. So maybe for raising their popularity or just to amuse fans, Twenty One Pilots and other musicians released album of the same name.
Was this essay interesting? Read about online writing assistant: we are one of the best Internet companies and will be happy to co-work with you in writing essay or article.
We can make a conclusion that Twenty One Pilots is unusual band with great amount of fans. They are not only good musicians but also good as people. They always have fun and spend a lot of time together. They not just play in one band they are best friends. They are the example of relations between band members. They became lovely and fans even dress in way they do to be like them. This band is example of what can be achieved by talent and enormous effort. They are popular because their music is like nothing else on Earth. It's unique and full of good spirit. It has style but at the same time very versatile. So it can be said that they are one of the best bands among those created during last years.